About Us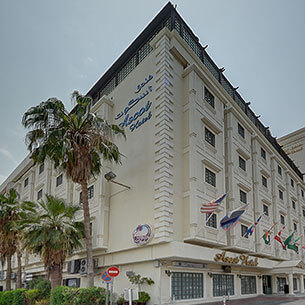 Serving the business traveler
Built to serve the corporate guest, the Ascot Hotel has been carefully engineered to cater to the business traveler's every need. Everything at the Ascot, from the elegant lobby to the thoughtfully designed rooms to the gourmet restaurants, is about subtlety and luxury rather than opulence and pomp. Located close to the airport and to the major business areas of Dubai, the Ascot has been meticulously fashioned to be the perfect place to stay, hold business meetings and entertain your guests.
Staying with us
The Ascot has 80 tastefully decorated rooms on offer, consisting of deluxe rooms, executive rooms and suites. Each room is attentively designed to afford its occupants complete privacy and comfort.
Khamas Hospitality
A boom in hospitality sector is a boom in the tourism industry. For its part, Khamas Group has utilized its management prowess in the promotion of the local tourism industry, by maintaining spa and wellness centers, entertainment holes, and restaurants.
Restaurants. Guests will enjoy the local cuisines, caviar and wine as they relax with live entertainment and cozy ambiance at these finest restaurants: Spa & Wellness. The Chill Spa contributes greatly for the Royal Ascot Hotel, where it is located. Its services enhance the emotional & physical confidence of hotel's guests instead of looking out for similar amenities. Nightlife. Explore the cosmopolitan nightlife in the passionate city at these bars and pub houses: